Good Monday morn everyone..
How many of you are still running on the old time…I am, it takes this old mind and body a few days to get on track again..For my part I just wish they would leave the time alone and lets have one time all the time..
Did you have a good Halloween?  This is how I spent mine..on the couch wrapped up in a blanket coughing my head off..get the depends..LOL I can't seem to shake this bronchitis..have a Dr. appointment on Thursday..guess she will give me more meds or put me in the hospital..I am going to fight for the meds at home…I'm  supposed to go to Angies on Sunday for a week.  Hoping I can still make it..
Josh came over Friday night and brought me a hamburger and a hug…made me feel better…I was going to get the kids this weekend but I just couldn't make it..I don't know if they took them out anywhere for Halloween or not, they had costumes for them…I hope they made pictures if they did..Josh had to work until 7 so I'm betting they didn't, I think the little part of town they live in had something for the kids on Sat. so my guess is they went there.
http://digital-scrapbooking.org/shop/jazzys-words-to-delight-m-57.html
Just wanted a way to say thanks to all of you that have been faithful to buy my word art and who support me..and for the friends I've made thru digi scrapping..there's nothing like it…SOOOOO GO SHOP TILL YOU DROP AND GO BACK AGAIN..LOL
And Don't forget my 3 new word art sets..they will be 50% off also…

http://digital-scrapbooking.org/shop/autumn-daze-frames-and-wordart-p-2784.html

http://digital-scrapbooking.org/shop/spooktacular-frames-and-wordart-p-2785.html
http://digital-scrapbooking.org/shop/halloween-toppers-p-2775.html
Look what Nancy (junebugmom68) made with a frame and word art from Autumn Daze
I think this is just beautiful I love the way she used the frame 3 times…thanks Nancy
And don't forget we are in a new month and you know what that means….New Challenges are up at DSO..mine is the Altered Photo Challenge and this is the posting bonus I have for this month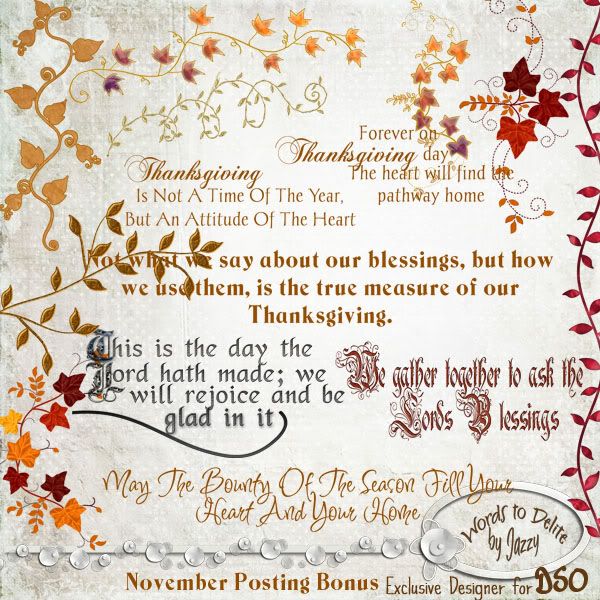 http://www.digiscrapobsession.net/pals/showthread.php?t=1164
There are so many challenges, Lyric challenge, Color challenge, Scraplift challenge, just to name a few and all have awesome posting bonus for you…so stop by and take them all and get lots of goodies..you have a whole month to get them all done http://www.digiscrapobsession.net/pals/forumdisplay.php?f=8
Well its time for me to scoot along now….back to my couch, my blanket, my cough medicine and a nap…but before I go I have a little something for you..hope you enjoy..
http://www.4shared.com/file/145654815/e355fa42/Dance_to_the_Music.html