Hello one and all..hope you are having a lovely day so far...
I was out of pocket for over a week with strep throat and it knocked me on my butt for sure...but I'm feeling more like a human everyday lol...My life has been very dull and boring since we talked last...I've spent my time between the bed and the couch!  I am having withdrawal from not seeing my baby for so long...but I'm going to see her this afternoon if the rain stays away.
Lots going on today...I have some new word art in the store..
Lets Take A Vacation
$3.99 $3.39
Save: 15% off
Lets Take A Vacation...sounds good to me, how about you? Since I can't take a real vacation with you, I made this brand new set of vacation word art. There are 20 individual png files and any one of them will give your vacation layouts that special Pop and Sizzle you want them to have. Each one can be re-colored or re-sized and can be used for other projects. They are done in 300 dpi for better print quality.
My Ct Members have really been working on some awesome layouts...I have so many to show you I know we won't get to all today..
This was done by purepixels..love the colors and the elements, she looks like she is having so much fun...
nancy did this one..love the colors and how she has the pictures arranged..love the journaling strips..reminds me of road signs.
  kimscrappin did this one..what perfect pictures for this word art..love the colors and the layers of circles..great page
another by kimscrappin, love the colors here and I see some things from KimBs grab bag for last week..
nancy did this one using my Fathers Day for Dads for this one..love the colors and the fence and the wire..just everything together makes this an awesome layout..
our newest Ct member  crlin  sent me this precious layout..love this expression..I love the stacked paper and the simplicity of the layout..just awesome..
These wonderful layouts were sent to me by my friend wenchdgrafix I love the fantasy look and the OOB frame..she is adorable too...she used word art from my Summer Theme word art..
Love the colors in this one and that border is gorgeous, aren't these 2 little dolls..she used my friendship word art.
Marion sent me this one..it's beautiful..it looks like a picture from a book...she used my Fairy word art...thanks Marion for sending me this one..love it
You can find all of the word art used in these layouts at my store.
Can't believe this is July 1st..where is the time going..all those Christmas in July sells will be starting soon on the home shopping networks LOL..other things starting today are the Challenges at DSO..
I am back again this month with the Altered Photo Challenge..its really simple, just alter the photo in your layout, tells us how you did it, and post a link to your picture in the gallery and you get a posting bonus....this is mine for this month..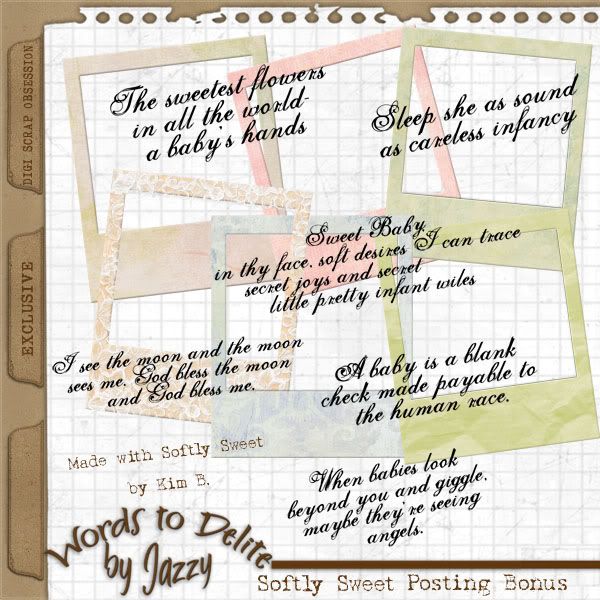 If you've never participated in the challenges at DSO...please come and join us this month...and you can really get some awesome kits and things from the hosts...and we look forward to seeing all our familiar faces around this month too...we love ya!
Over at KimBs store she is releasing things from her Mini Grab Bag #5
You can  find these here
These pretty pink leaves are here
and this beautiful Mish Mash gold is here
Here's a layout I made with these 3
We went out to eat and took Kaylen, she had so much fun, she ate some of everything she could, and still wanted more so we gave her jello and chocolate pudding, she went wild over the pudding and just kept on wanting it..we finally gave her a spoon and she put the whole thing in her mouth..she was soooo sleepy but still wanted to keep eating..LOL This picture was a bit blurry but you can see some of the food that was all over her little face..oh what a night to remember for great grandma...
Well gang I am guessing you are ready to stop reading so here's a little gift I made for you...hope you enjoy..
http://www.4shared.com/file/115299800/6ecf4622/Sweet_Pink_Frame.html

Until next time...